Waiting is always the worst part of traveling. It's time to skip the line and book your next ride with MyAirportTrip. Make a reservation on our mobile-friendly website and we'll have a car ready when you land.
Let's get started!
1
To begin, we'll need pickup and drop off locations date and time. First, search for your destinations by name, address or airport code. If your location isn't already stored in our database, you'll be asked to confirm it on the next screen. Be sure to include the number of passengers over 5 years old. You can add as many rides as you'll need, so go ahead and plan your whole trip at once!
Choose a Service: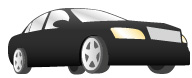 2
We recommend a private luxury vehicle or standard taxi for an exclusive, nonstop trip, but we also offer limousines, shared cars and shuttles. Vehicles marked with a red star are supplied by our featured providers. If you're booking multiple rides, you'll be brought to another screen to choose a vehicle for that leg of your trip. Your pickup and dropoff locations will be listed above the vehicle selection with a numeral indicating which ride you're selecting.
Review:
3
Next we'll need the flight information for each ride you're booking. Include your airline, flight number, passenger names and contact information. Your driver will pick you up from (or bring you to) the correct terminal and contact you if necessary. Be sure to tick the Wheelchair Accessible option on this screen if you require this service. You'll be asked to repeat the process for each leg of your trip if you're booking multiple rides.
Checkout:
4
MyAirportTrip accepts Visa, MasterCard, American Express and Discover through our trusted payment partner, Authorize.net. Before we can check out, you must log in or create a new account, where we'll store your ride data and confirmation number. Your credit card information is processed with secure HTTPS technology and stored for future use.
Ride: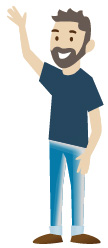 5
After your payment has been processed, you'll be presented with your confirmation slip, which includes a QR code and confirmation number. This information will also be emailed to you, but be sure to print the ticket and write down your confirmation number in case the email gets trapped in your spam filter.
When your plane has landed and you're ready to go, follow the instructions on your confirmation receipt to meet the driver (usually outside of the baggage claim). Just present him with the confirmation code you received during checkout to redeem your ride.
Luggage Policies
Most of our providers have baggage policies similar to the airlines. Additional fees may apply for large items or more than two bags.
Cancellation Policy
Reservations must be canceled 24 hours before your scheduled pickup time to receive a full refund, but don't worry if your flight is delayed. We'll track your status and be ready to go when you land.
Now you're ready to roll! Buckle up and let's go for a ride.