The only consolidated city-county in California, San Francisco is the leading financial and cultural center of Northern California. It is the second-most densely populated major city in the United States after New York City.

For more than 150 years, San Francisco has been a magnet for fortune-seekers, immigrants, artists and poets.

The northeast quadrant of San Francisco, anchored by Market Street and the waterfront, is the historic capital of the city. Cable Cars carry riders up and down steep inclines from the summit of Nob Hill, down to the waterfront, Fisherman's Wharf, one of the busiest and well known tourist attractions in the western United States and Pier 39, where many restaurants highlight a still-active fishing industry.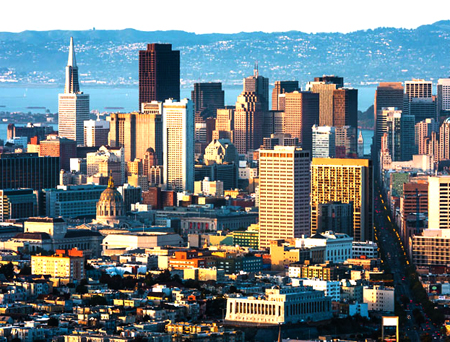 Known for hosting several large professional gatherings, such as Macworld Expo, RSA Conference, American Bar Association's annual meeting, the Game Developers Conference, the Apple Worldwide Developers Conference, Google I/O and JavaOne, the Moscone Center is the largest convention and exhibition complex in San Francisco, California.
It comprises three main halls: Two underground halls underneath Yerba Buena Gardens, known as Moscone North and Moscone South, and a three-level Moscone West exhibition hall across 4th Street.
Dining
Arts and Culture
The San Francisco Museum of Modern Art (SFMOMA) houses 20th century and contemporary works of art, and attracts more than 600,000 visitors annually. It is administered by Fine Arts Museums of San Francisco, which also operates the de Young Museum in Golden Gate Park.
San Francisco's War Memorial and Performing Arts Center hosts some of the most enduring performing-arts companies in the US. The War Memorial Opera House houses the San Francisco Opera, the second-largest opera company in North America, as well as the San Francisco Ballet.
The Sharon Art Studio (SAS) is San Francisco's largest public art center and art education facility. Jointly operated by the San Francisco Recreation and Parks Department (SFRPD) and the Friends of Sharon Art Studio (FOSAS), we are located in an historic building in Golden Gate Park and offer arts education for people of all ages in ceramics, leaded and fused glass, jewelry/metal arts, drawing, painting, and mixed media.
As a place that encourages curiosity, this studio boasts a multigeneration group of individuals who come together to learn, celebrate accomplishments and recognize milestones in their projects.
Outdoors
Golden Gate Park
Golden Gate Park, one of San Francisco's greatest treasures, sees more than 13 million visitors each year. From a vast, windswept expanse of sand dunes, a verdant and picturesque public space was created to give city dwellers a place to relax and reconnect with nature.
The biggest out of 220 parks in San Francisco, Golden Gate Park stretches from the center of the city west to the Pacific Ocean, and boasts cultural and natural attractions such as the Conservatory of Flowers, Japanese Tea Garden and San Francisco Botanical Garden.
There are a collection of other recreational parks and programs available to the public. Check out San Francisco Recreation and Parks online.
Museums and Attractions
The Exploratorium, a twenty-first-century learning laboratory, was one of the first modern science museums. It has lots of simple and hands-on exhibits that build creative thinkers and a playful environment to explore and tinker. All ages are encouraged to participate, even the little kids who just want to play.
Alcatraz Island offers a close-up look at the site of the first lighthouse and US built fort on the West Coast. The infamous federal penitentiary, long off-limits to the public, is rich in history. The island has also a natural side with gardens, tide pools, bird colonies, and bay views beyond compare.
San Francisco's Cable Car Museum is a good place to learn more about the city's trademark method of transportation. The museum is housed in the building that's the heart of the cable car system in the city. Here, you can watch the cable-winding machinery in action and watch the moving cable pass through a series of "sheaves" as it enters and leaves the building.